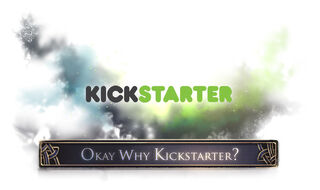 As a "niche" and RvR-focused MMORPG, CU is a very risky venture for most traditional game publishers. Even if we did find one willing to take the risk, it would come with so many strings attached we couldn't make the game we want to, or would face constant battling to ensure our vision remains intact. That's why we're attempting to fund some, but not all, of this project's costs through Kickstarter.
While we at CSE believe in Camelot Unchained, we could be wrong about it having even enough appeal for backers to fund this Kickstarter. We will create this game only if there is a demand for it, so if we can't get the partial funding we seek, we will not go ahead. OTOH, if we do successfully fund, Mark Jacobs will add $2M dollars to the development budget himself. This is covered in more detail below.

Every dollar we raise from this Kickstarter campaign will go towards development. Our staffing plan includes hiring three additional engineers, two artists, one designer and one part-time writer immediately. The MMO engine will be developed in-house with one purpose, to make a great RvR MMORPG; the engineers will work with Andrew on it, and our existing programmers on the server tech. While this game won't require the amount of content as Dark Age of Camelot, we still need to hire a few more artists in-house and a writer so, dragons be praised, Mark can go back to his day job and stop writing all these documents.